Last week, I found out the Rugby World Cup was starting and that South Africa were playing against Wales on Saturday. I don't know
much about rugby
, (read: i know pretty much there is a ball, and there are a bunch of teams and they smash each other. a lot.) But since I support South Africa with all my big proud heart, I decided to join the little group of Saffers and watch a bit of RUGGER.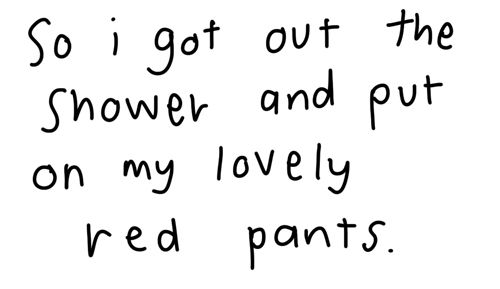 (edit: not really that skinny IRL)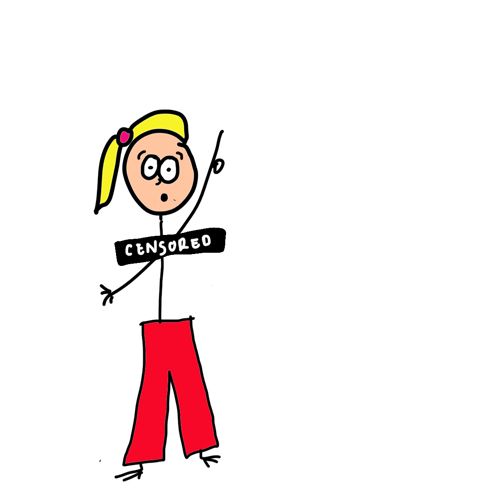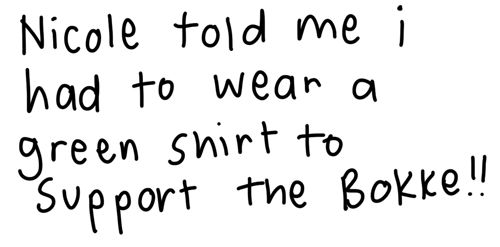 So i put on my lovely green shirt in an "
I support the Bokke
" fashion.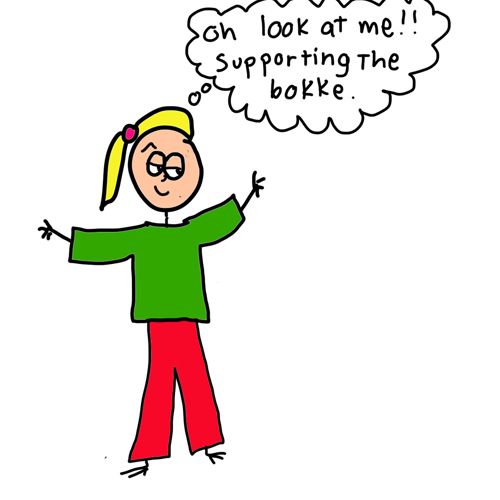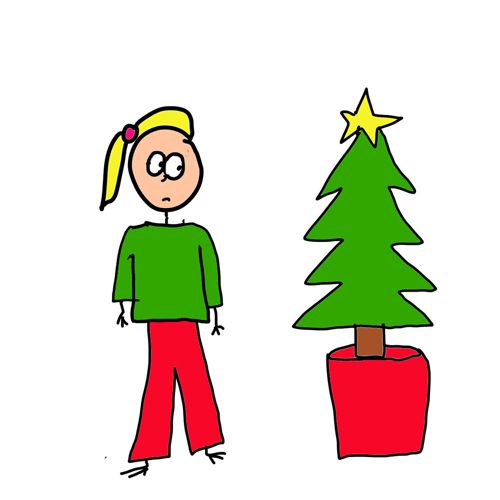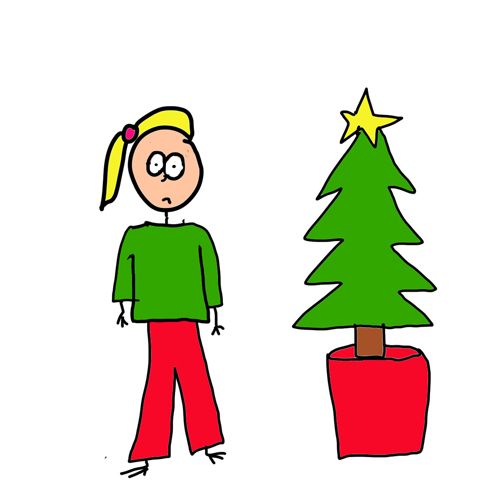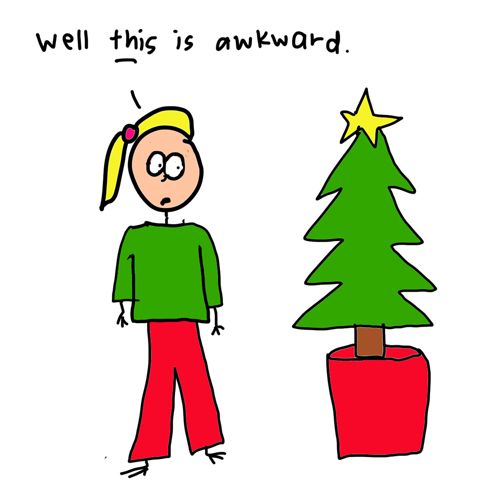 After I tweeted about my unfortunate Christmas tree fashion faux pas. I found out that Wales is in fact red. Why would I support Wales?! dumb-dumb. I changed.
Nicole came to fetch me before the game.
Nicole:
are you ready?
Me:
yes, I just need to get my sketchbook.
Nicole:
you don't need your sketchbook.
Me:
I do.
Nicole
: Why do you need your sketchbook?
Me:
To make the rugby more fun.
Nicole:
fine.
Me:
Oh! Nicole! look at me! I have a green shirt!
Nicole:
well done.
Nicole has a "real" rugby shirt. She is fancy. She is a "real" supporter.
We arrive at rugby watching venue: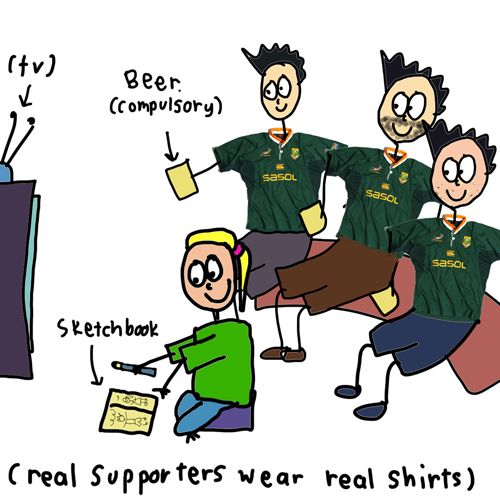 Ah, this rugby thing, I could get into it....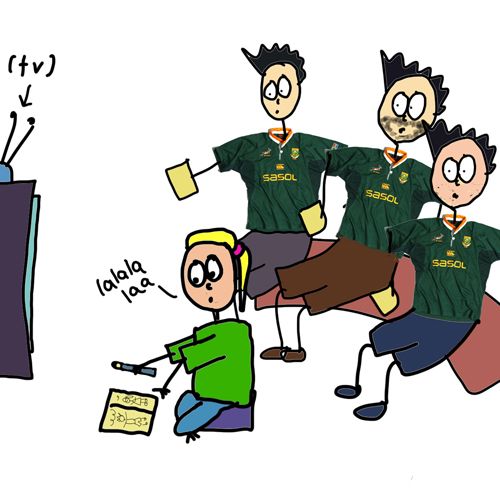 lala laa la.... Rugby is so lovely... la laaa laa lalala... doodles, pretty pictures
and then!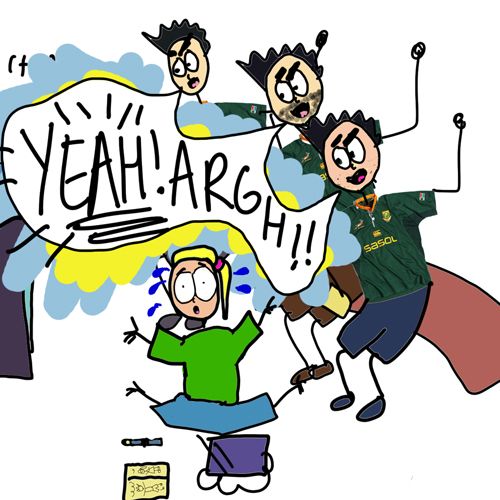 For someone who has just been minding her own business and quietly doodling to herself, it is a most
surprising
and
frightening
experience to have grown rugby men jump up towards you and scream at the same time. I nearly jumped out my little green t-shirt.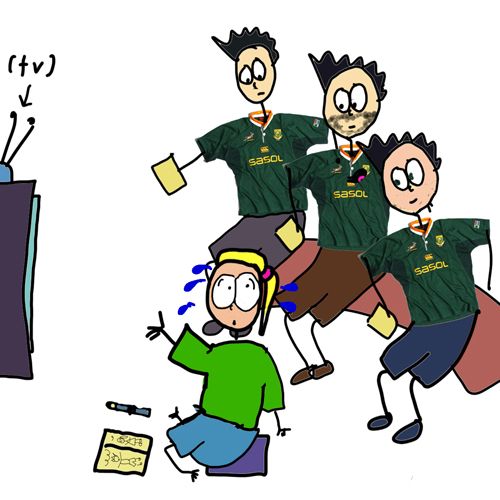 Something must have happened with aforementioned "rugby game". When cheering and shouting and screaming has subsided, grown rugby-men look at you curiously because you are now a skitterish nervous-wreck. You think they are expecting some kind of remark about the "rugby play" that just occurred. Good thing you know
exactly
what happened.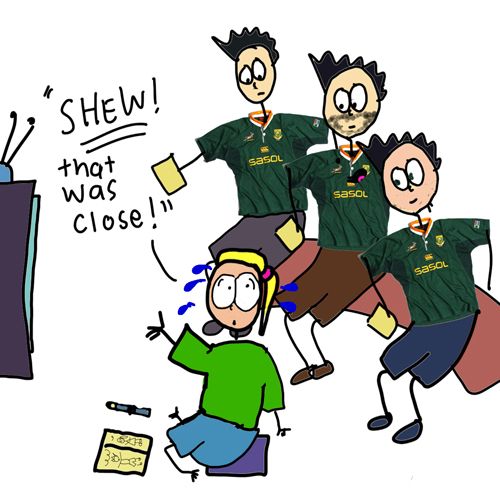 In this situation, use the above phrase. You will
know
you have succeeded with this phrase if the rugby-men say nothing, focus back on screen and continue to drink beer. (beer = compulsory. Even if you are in a neck-brace. [Tim].)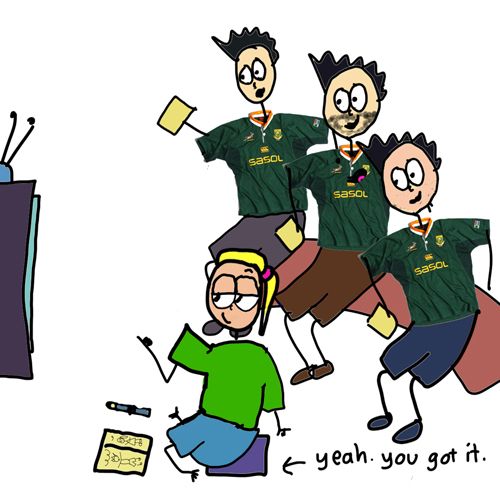 Now, you're "in".
Ladies (and men) of the "non-rugby" variety, I would like to loan you this win-win catch-all rugby phrase. With careful emphasis and correct use of tone, it may be applied to ALL rugby situations.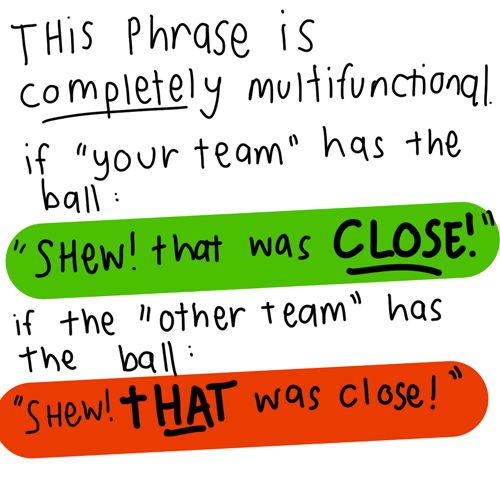 (Fantastically my win-win catch-all rugby phrase was also highly appropriate for the outcome of the Wales game. i told you.)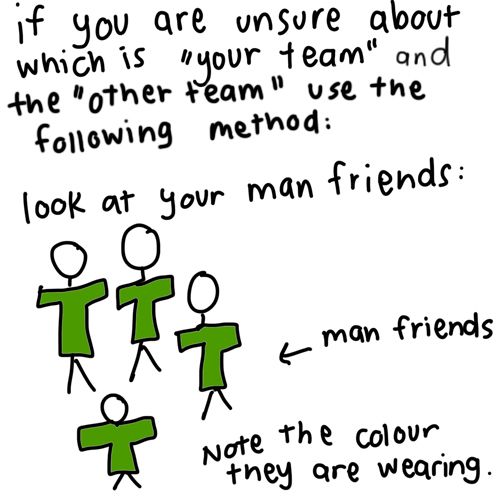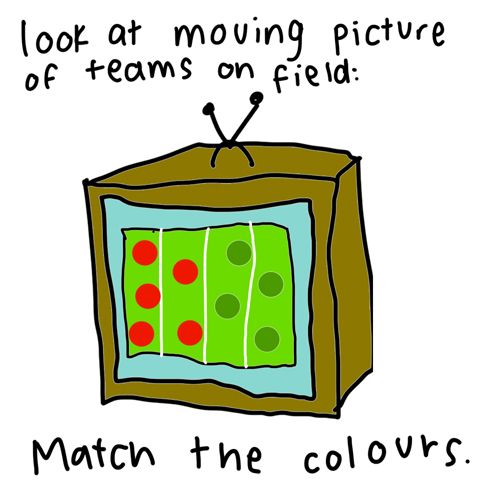 Man-friends wearing
green
shirts =
green
moving team on field =
your
team.
Simple.
However, you may run into some complications using this method: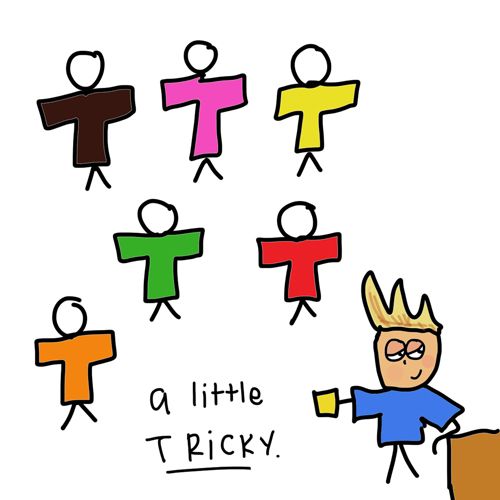 In this very tricky scenario,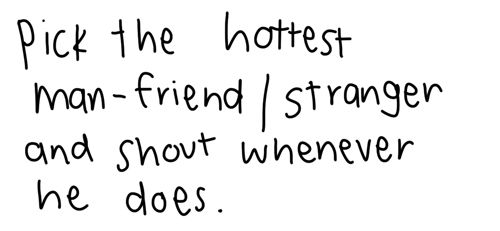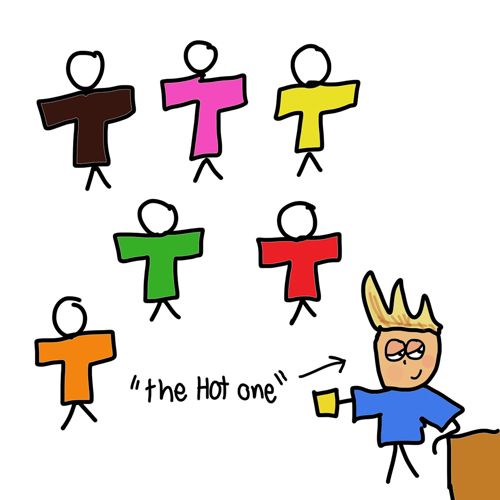 That's it.
When the hot one gets excited and cheers, you get get excited and cheer, when the hot one gets angry and says things like "THE REF IS BLIND!", you get angry and say things like "THE REF IS BLIND!" When the hot one gets sad and emotional, you... console him. ("it was so close.")
This will work for you.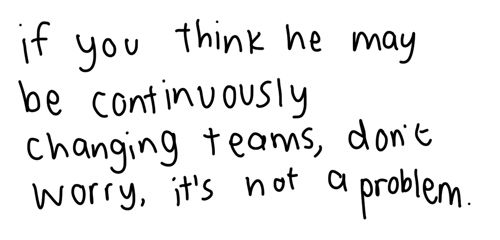 You will still win.
If all else fails and you would like to support South Africa, pick the
green
team, the one that blends in with the field. We're camo like that.
In my internet searching for the
World Cup Time Table
(yeah, i'm a fan of this
screaming-at-the-TV
thing now) - I did come across something great.... I may not be a rugby guru, but i
DO
know, that you do
NOT
name your rugby team
"The brave blossoms."