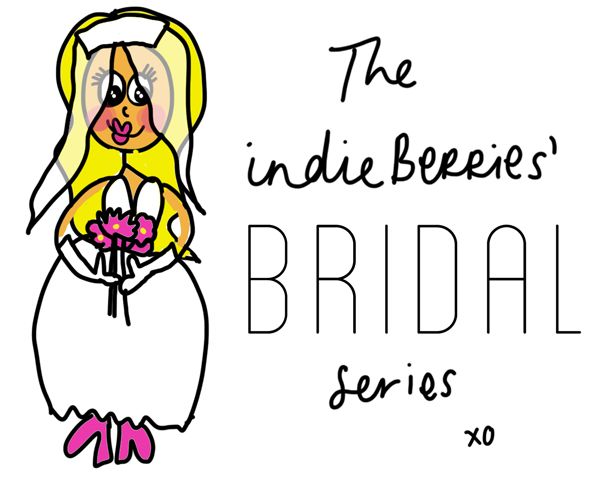 WEDDING DRESSES (and how I end up naked at my own wedding):
Selecting a dress you're going to be married in, is a long and tiresome process. Brides talk about the AHA! moment when they put on that (white) dress that is simply just
the one:
The Dress that they know without a five-o-clock shadow-of-a-doubt, is The Dress in which they will say their "I DO".
When this bride/dress synchronicity occurs, sane women have been known to either; shriek out in jubilation, nod wildly with glowing radiant approval or break down in an emotional-bridal sob-fest.
Since all brides seem to have this unnerving sense of "connectedness" to The Dress which is
the one,
it is safe to say that in spite of the 372 dresses I have already tried on, I have not yet found
the one
.
There are three problems I have found so far in my wedding-dress hunting.
Problem 1: Having a body that suits most dress types
I am of the average-to-small body size - which means that I don't have any drastic feelings of oooooh....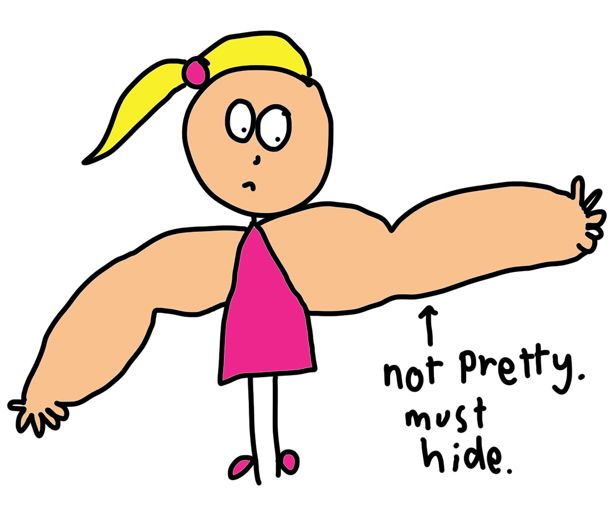 There are therefore a large variety of dress styles and types that suit my frame/body type. Many people misconstrue this for a blessing - when in fact, it makes your selection process that much more difficult when you are unable to eliminate dresses based on "take-that-off-right-now-you-look-like-an-elephant-giving-birth-to-a-snowstorm". It is more difficult when most dresses look good.
Problem 2: Finding your dress style
There are numerous types and styles of wedding dresses. In a
very
desperate attempt to explain this to The Fiance I created an
ashamedly poor
metaphor comparing wedding dresses to light fightings. (I know). Bear with me:
Similarly to wedding dresses - there are various types and styles of light features. For example -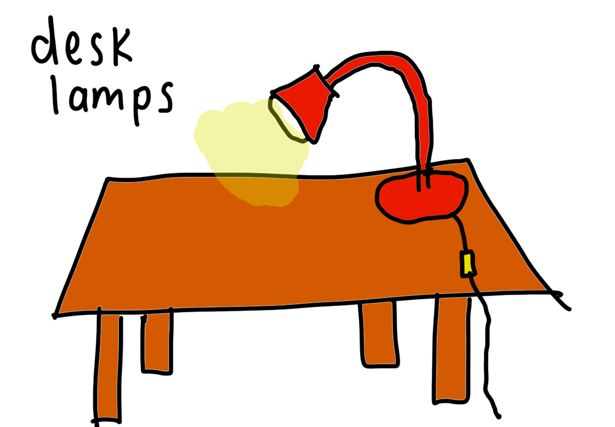 There are many styles of light features just as there are a variety of wedding dress styles - classical, romantic, vintage, modern, boho, quirky. Now, these lamps all fulfill the same purpose and provide glorious light, yet the difference between a bedside-fabric-covered-lamp-shade and a Pixar-esque metal desk lamp is quite extreme. An indie-Boho bride with flowing skirts and flower braids is a very far I-DO from the classical-Kate-I'm-a-freaking-princess look.
But, for the sake of this poor metaphor, let's say you settle on the fabric-covered-bedside-lamp (the vintage bride), you can change the fabric cover of that lampshade (dress shape, dress fabric, dress length etc etc) and you have basically created a whole new look and feel - even though you haven't even switched lamp styles. Within all your dress styles you have completely different dress shapes - mermaid, fishtail, A-line, Princess, sheath, tea length and don't even get me started on the necklines, waistlines, straps and sleeves.
Let me tell you - the very same dress made with
a) different straps
b) different fabric
c) more sparkle
d) less sparkle
e) ruffles
f) shorter
g) longer
h) lace
i) flowers
j) ribbons
is an entirely different dress.
You only need change one of these very small items and you have created basically an entire new look and feel of dress.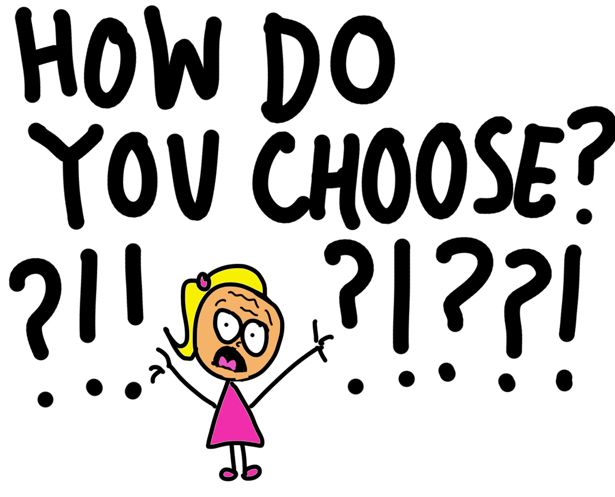 As you may have been able to tell - this embarrassingly weak metaphor got wildly out of control and The Fiance lost focus half way through me explaining how to transform a bed-lamp using different coloured-light bulbs and hanging crystals. I must have embedded something in his subconscious because when i posed the all important question of:
SO HOW DO I CHOOSE A WEDDING DRESS?!
He replied with: Whichever one turns you on the most.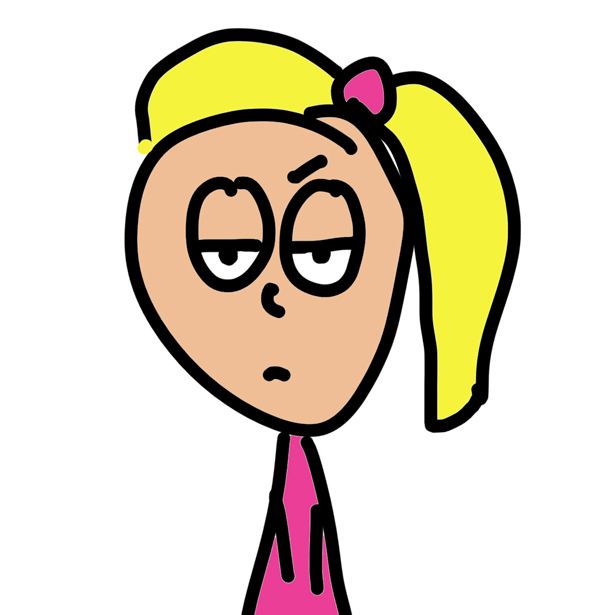 it was funny
but not that funny.
People say you should pick a dress that suits your personality - but what if your personality happens to be a little bit indie-Boho, a little bit lacy-vintage and a good dose of classic romantic princess bride mixed in with a fun quirky edge? Whaaaat?
In fact, it's become so Dyer that I have even asked The Fiance-man-friend his advice on what style he envisions coming down the aisle -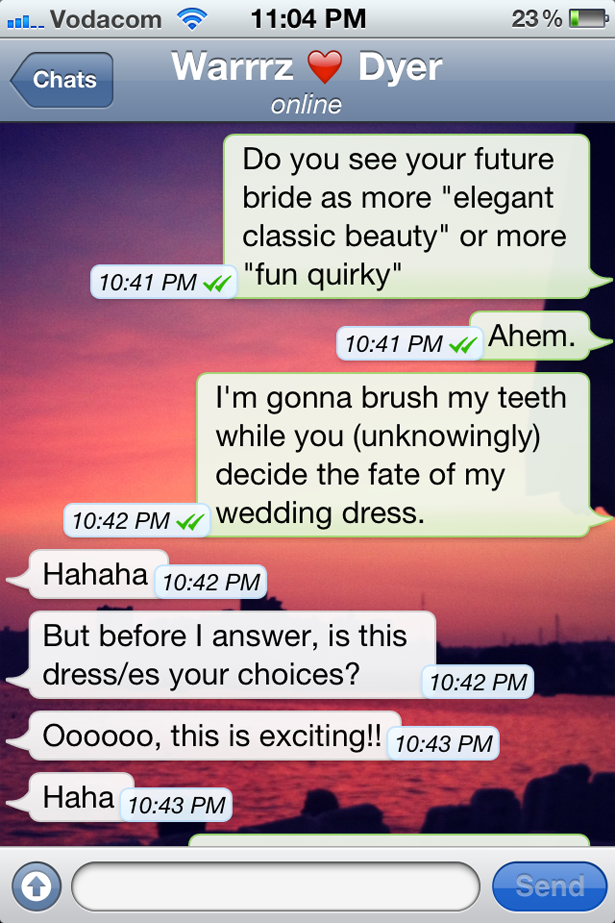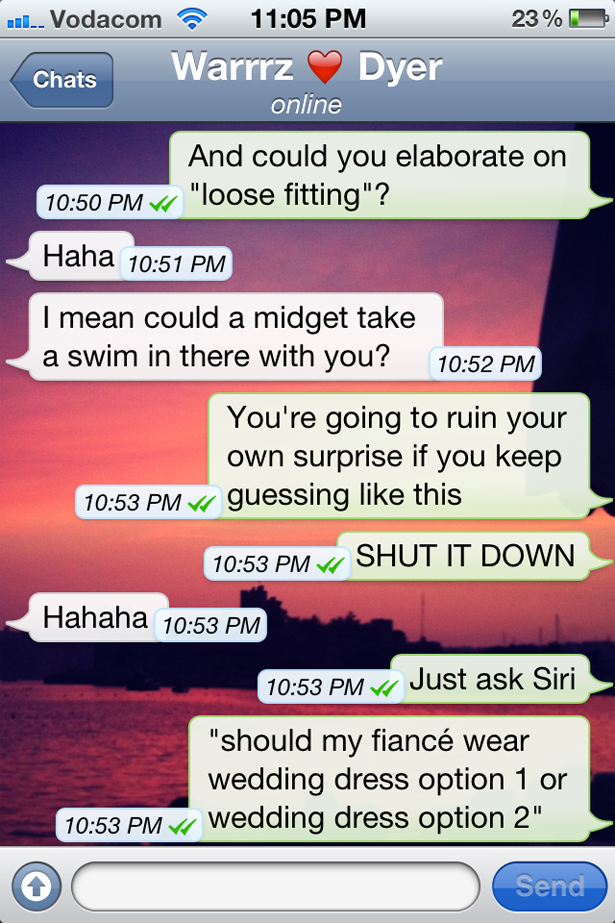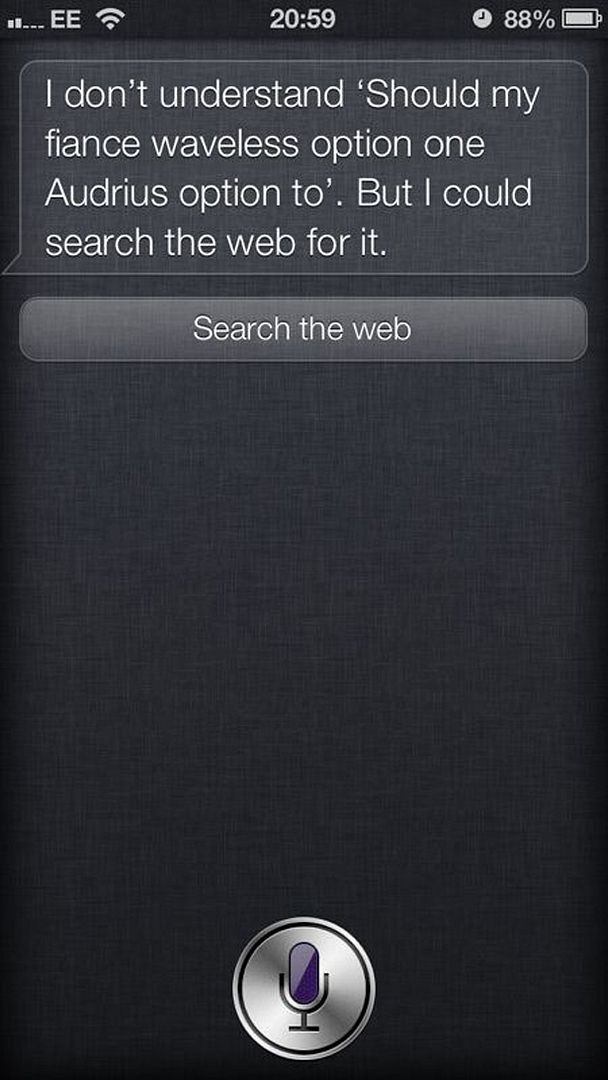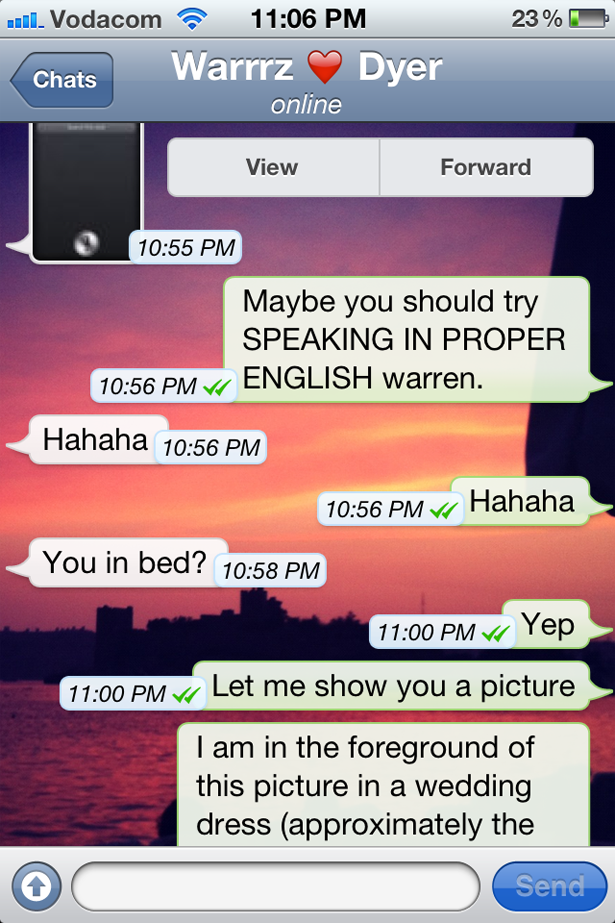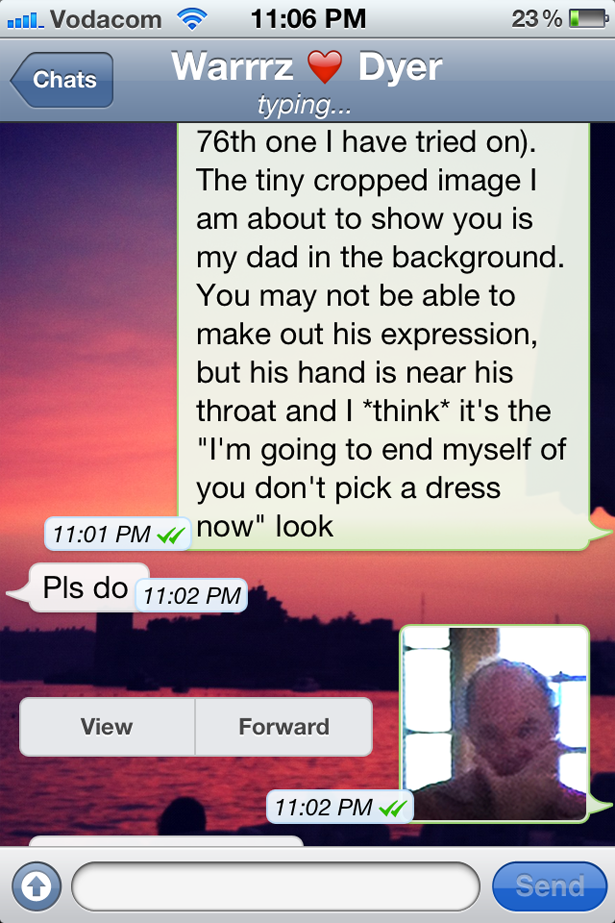 I digress....
Problem 3: A little bit of this an' a little bit of that
Having this "amalgamation of personalities" (actually I think there is medication for that) has led me to finding the absolute perfect dress bodice, dress neckline, dress skirt, dress shape and other dress 'accessories'. Unfortunately though these perfect elements exist in several
separate
dresses.
Wedding dress shopping (when i say 'shopping' I mean "trying on") goes something like -
Me:
OOOHHH!!! i LOVE this bodice! it's perfect!!
Mother:
Yes! it's the loveliest one we've seen!
Father:
PERFECT! Let's BUY IT AND GO HOME!
Me:
um... but... um... this skirt. This skirt is... no. I should put that other one on. (again).
Me:
YES! i love this skirt! it's just so lovely!
Father:
Excellent. We'll take it.
Mother:
um...it's just....
Me:
Yes, I agree. I don't like the bodice. You're right. The other bodice is
much
better.
What to do?! This bodice, that fabric, these elements, this shape, that skirt?!!? This style! No... that one! But this one is so beautiful! But is this one more
me
? What IS me? Who
am
I? What is the meaning of LIFE?! It's just not possible
At this point I would like to point out -
The Benefits of walking down the aisle naked:
Cheap. Nakedness = free
Excellent motivation to really tone up. AND! with the money you've saved on the wedding dress - you could afford a personal trainer. In fact, you could afford several personal trainers. For the rest of your life. Probably.
Easy to bust a move on the dance floor. Have you ever picked up a wedding dress?
Those things are heavy people. HEA-VY.
Environmentally friendly - you will have saved an entire caffeine plantation that would otherwise have been used to keep the dress maker awake for 5 months straight.
People will remember your wedding. guaranteed.
Absolutely NO hidden surprises for your groom on your wedding night.
You won't have the hassle of finding matching shoes.
You can go wild with shimmering body glitter. Ain't NOBODY gonna be outshining you.
Thoughts?
PS. I'm visiting a dress designer this afternoon - (something that I'm rather petrified of doing because I'm terrified of the "picture in my head" not being "the picture in their head" sort of thing) Let's hold thumbs...