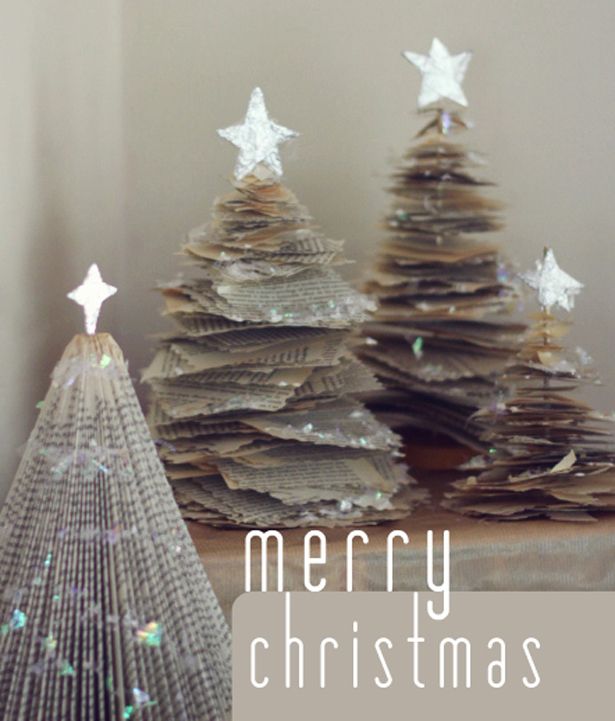 On Friday
I blogged a DIY Paper Christmas tree
- (the one you can see in the left of the picture above) Today I want to show you how to make the second kind of Christmas tree - the ones you can see in the back of this pic.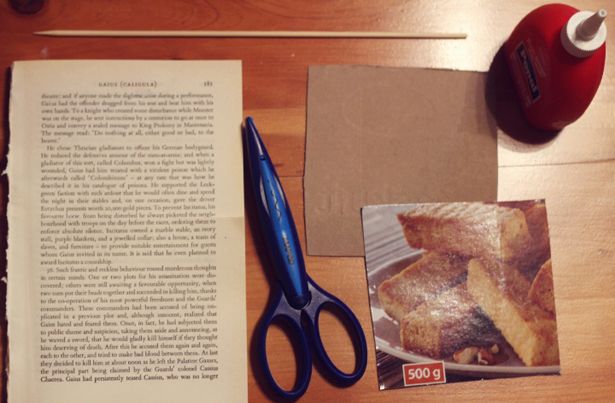 You will need:
old book pages
wooden skewer stick
pinking shears (if you have)
glue
glitter
some tape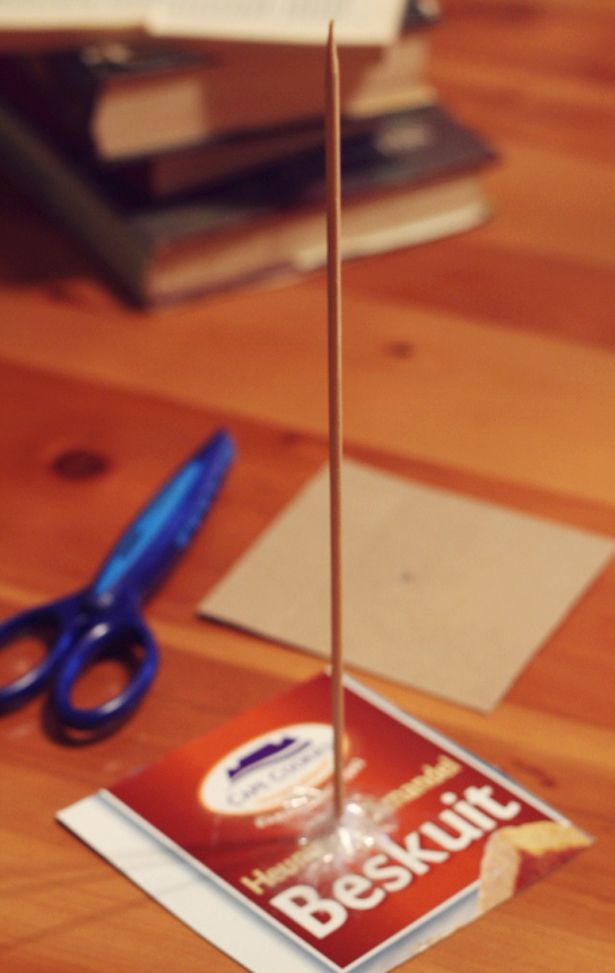 First you will need to cut a square of thick cardboard (I used an old rusk box). Tape the skewer stick to the cardboard.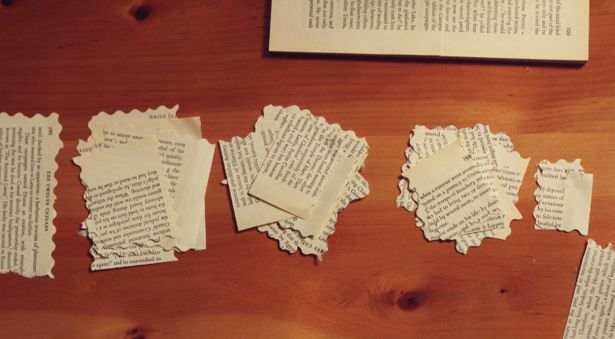 Next cut out some squares from the old book pages using the pinking shears - they don't need to be exact squares. Cut a variety of sizes and lay them out in order of size.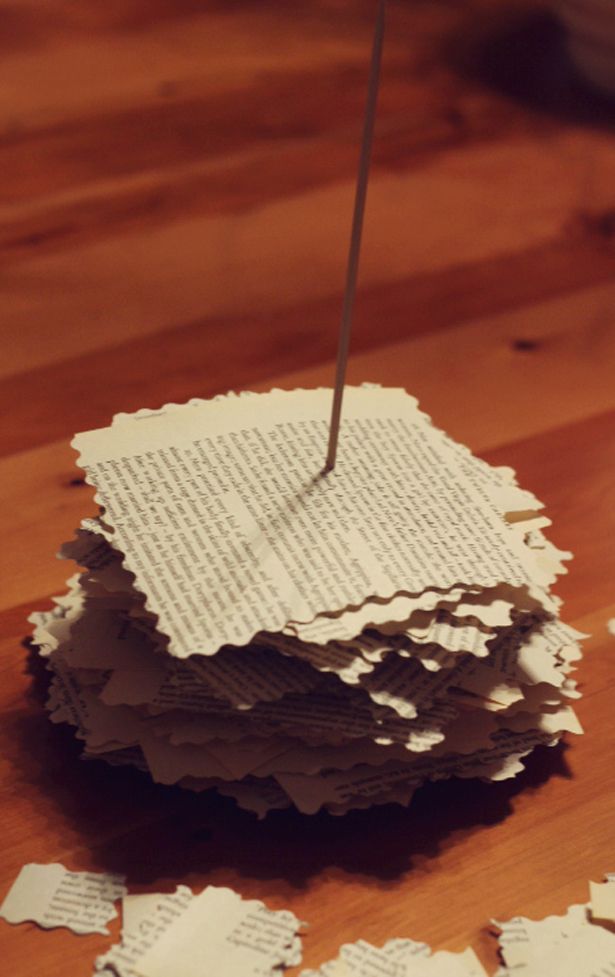 Start laying the paper squares onto the skewer stick - start with the biggest pieces at the bottom and gradually get smaller and smaller. Each time you lay a new piece of paper on the skewer - rotate the squares around so that the edges are ragged. The nice thing about this is that if you find you haven't cut enough big squares - you can layer the pages by putting them on the skewer off centre. Once you have stacked up the skewer to the height that you want - you can trim the paper squares if there are any that need to be adjusted to fit the Christmas tree shape.
If you want - you can also add some glitter or twinkle flakes and make some silver stars as I showed in the previous post.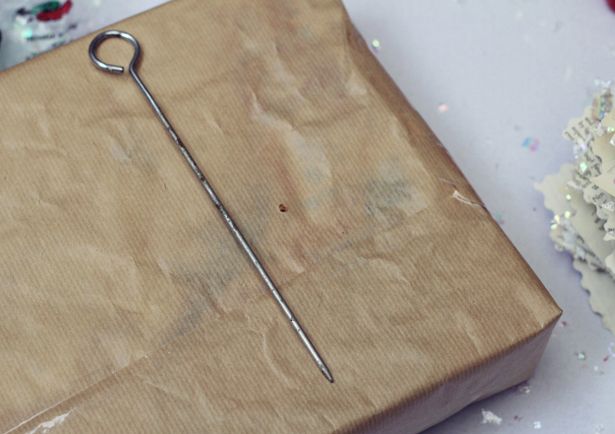 Although the trees will stand on a thick cardboard base, I found that an easier way to keep them up was to wrap up an old box with some brown paper and use a metal skewer to poke a hole through the box for you to slide the Christmas Tree skewer into. (You can use a wad of prestick/ blue tac to keep it upright if it needs). Having a box also helps to create different heights for your trees and helps to create a more interesting display if you make more than one. Sticking your Christmas Tree skewers into a block of oasis will also do the trick.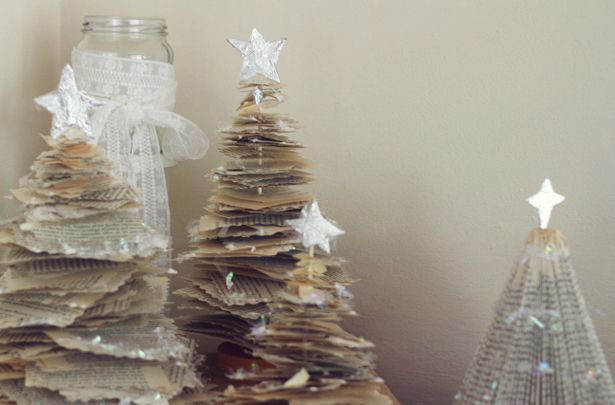 This is such a fun and easy Christmas DIY - and once the paper squares are cut - it takes almost zero concentration so it's great to do while watching a Christmas Movie or listening to some Christmas carols to get into the festive spirit!