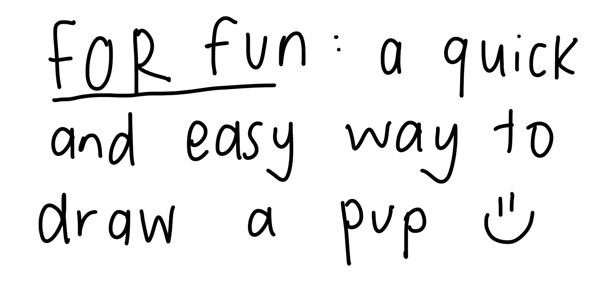 I just felt like doing this - so thought I would share it with you. If you're sitting at your desk - grab a pen and paper quick and follow these easy instructions: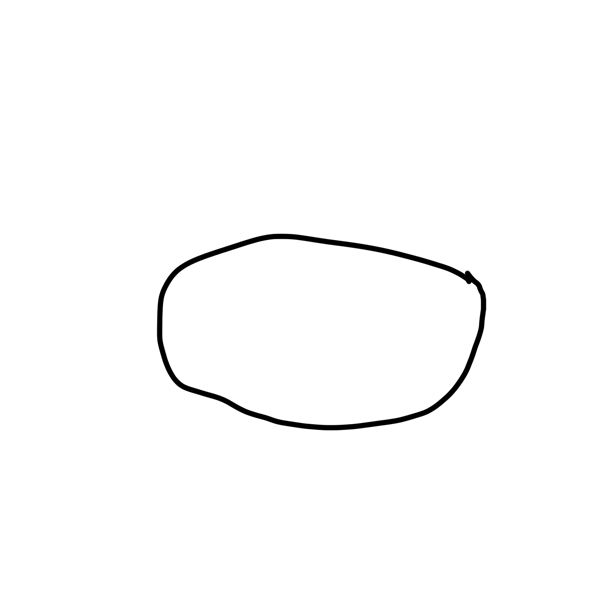 Draw a light oval on it's side. Make it nice and fat.
See how mine is all wonky - don't worry about that.
easy huh?!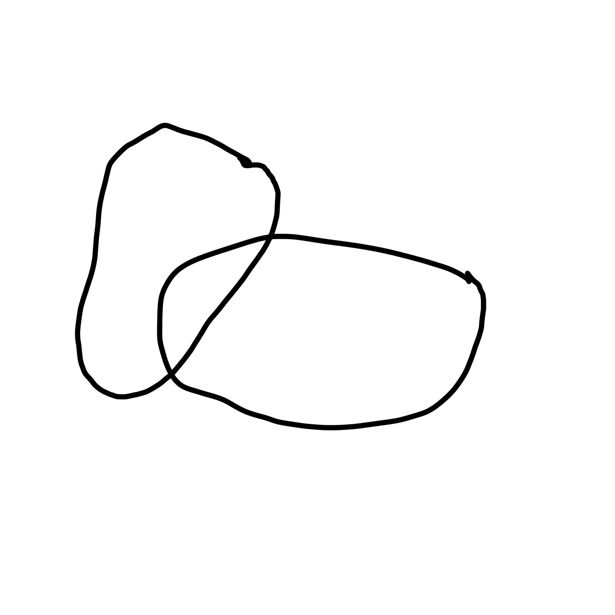 Next draw a long "almost" oblong triangle type shape. Let it intersect with the oval.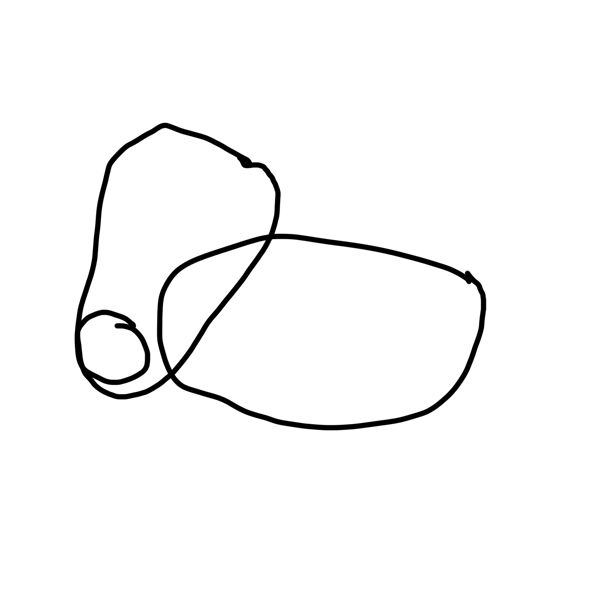 Add a circle to the bottom of the oblong triangle.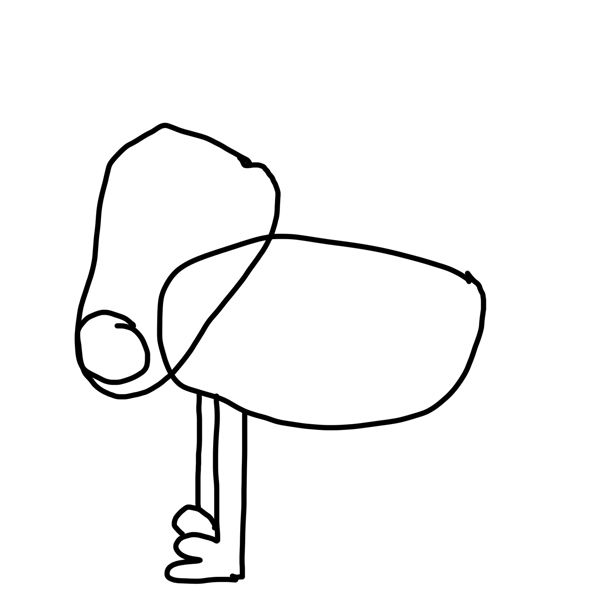 Start creating your pup's legs
- Look at the front leg first (the leg closest to you on the computer screen) - draw two long sticks and join them at the bottom with an "unclosed-heart" kind of shape. For the back leg - draw another long stick and join it with a shape that mirrors the front heart/foot.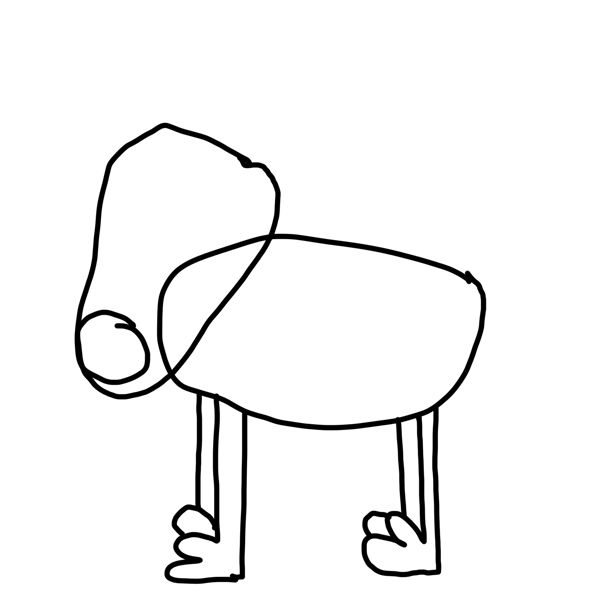 Repeat the same thing with the back legs.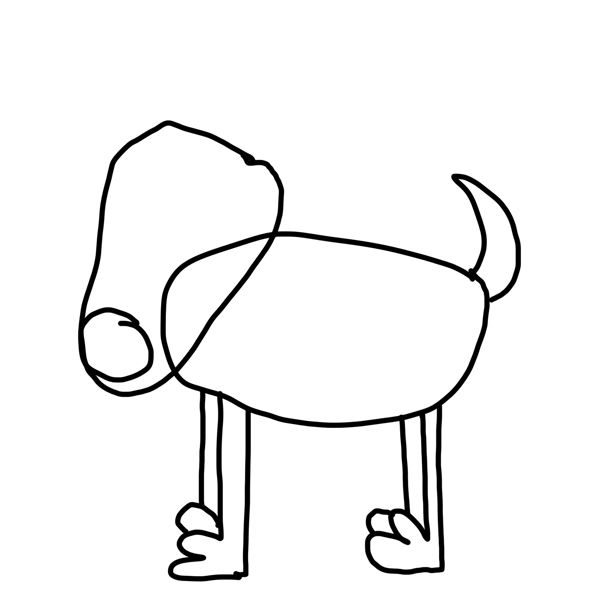 Add a tail - think of it as big quotation marks ( " ) that just join at the top.
Add ears
- I have drawn mine in a kidney bean kind of shape. You can also draw ears that stand up in a triangle kind of shape, or longer sausage type ears.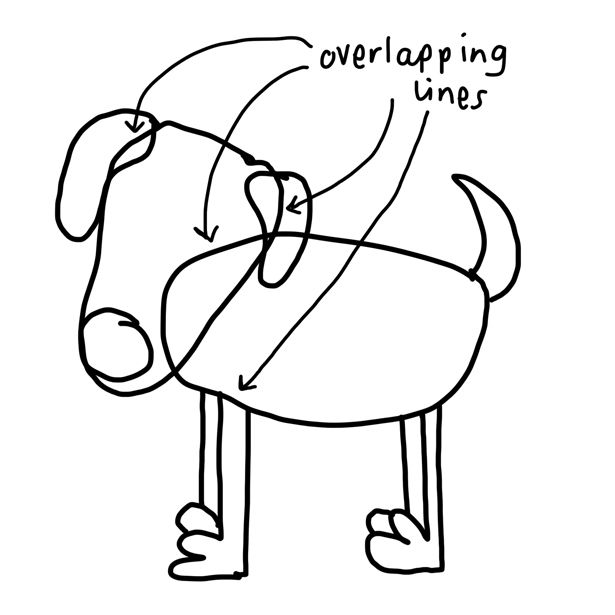 Take out any overlapping lines
(probably easier to do if you had been using a pencil. yeah, sorry about that)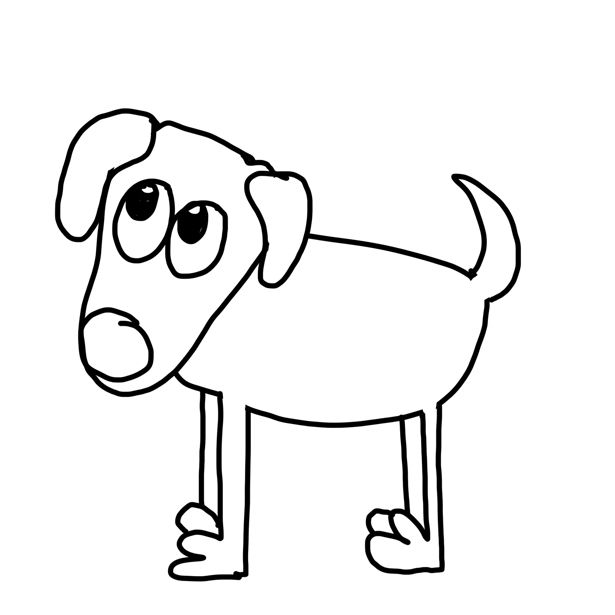 Add some eyes
- do this by drawing two big circles and then add smaller black circles within them.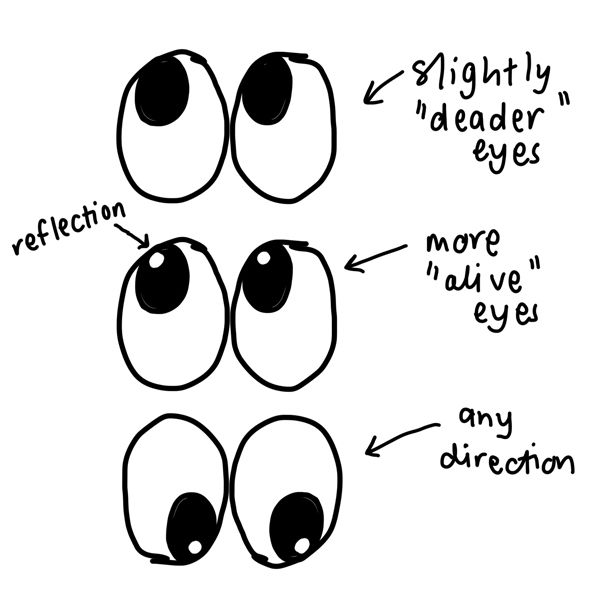 There are three variations of eyes above:
You will see the top set of eyes are what I call "dead" eyes. Sometimes I use these kinds of eyes and sometimes I use the more "alive" eyes. You can make eyes more "alive" by adding a tiny bit of white into the corners - this gives the illusion that there is some kind of reflection created by a light source.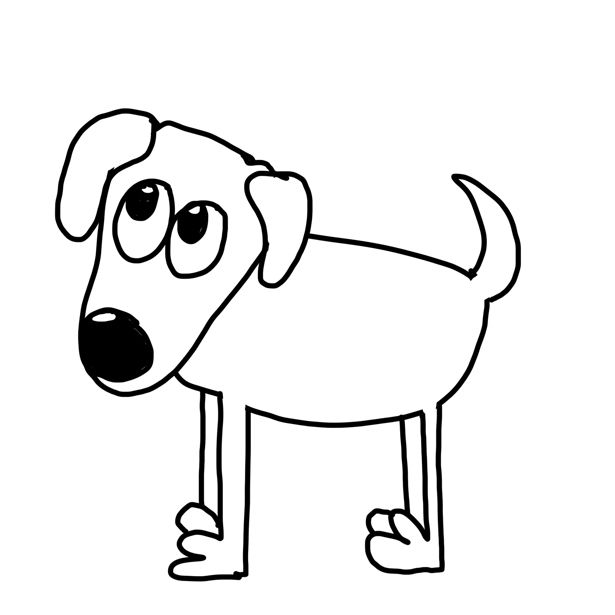 Colour in the nose
- You can also create a kind of reflection on the nose- by adding a bit of white to the tip of the nose. (Handy HINT: remember - if you have drawn your eyes with the reflection in the top left corner - like I have - it means that your "light source" is coming from the top left diagonal. If you are going to add a reflection to your nose - it must be consistent with the light source you have already set up. Otherwise it will look like your pup is maxing out at some kind of disco with light-sources all over the place.)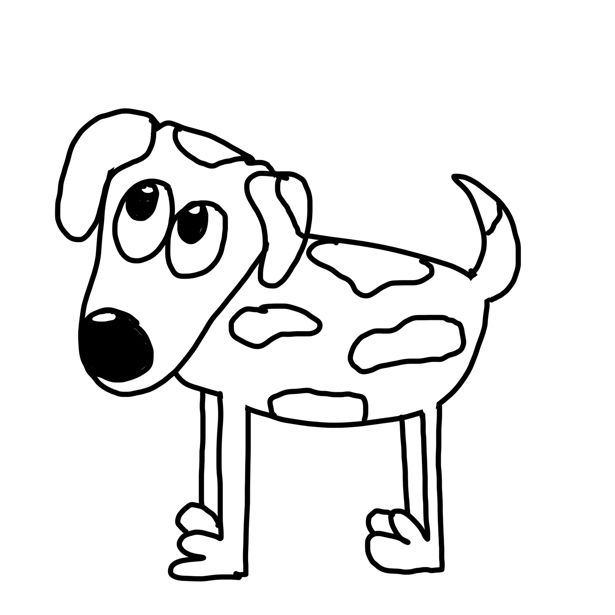 Add some spots or details -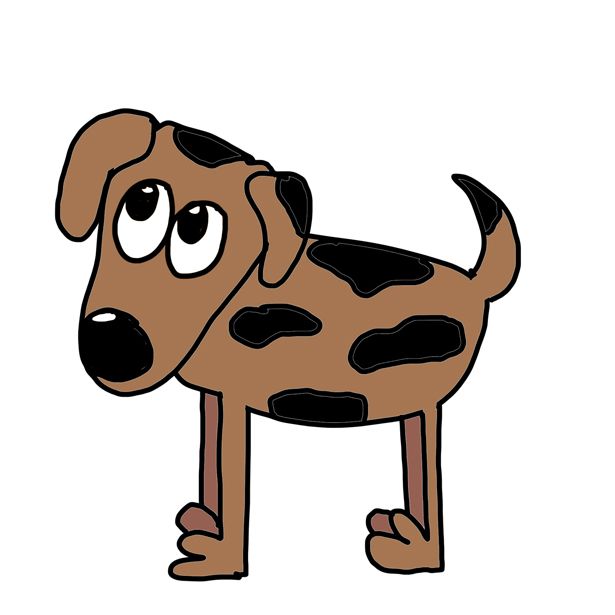 colour your pup in.
(you may or may not have noticed that I have coloured the back legs slightly darker than the front legs. This is because the front legs (legs closest to you on the screen) in real life, would create a shadow on the back legs (the legs furtherest from you on the screen - not the dogs back legs). Also - more technically, dark colours recede into the paper and lighter colours bounce out from the page, so this technique helps to create the illusion of depth.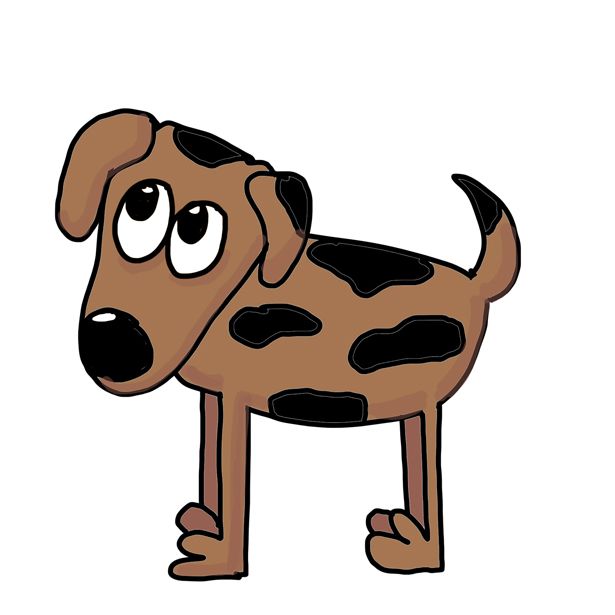 You can add darker shades to the underside of your dog - consistent with the light source you have set up. If you are only using a pencil - try shading the dog darker on the underside and see the difference it makes.
You can add lighter shades to the top sides of the dog - think about where the light would hit the dog and colour those a bit lighter.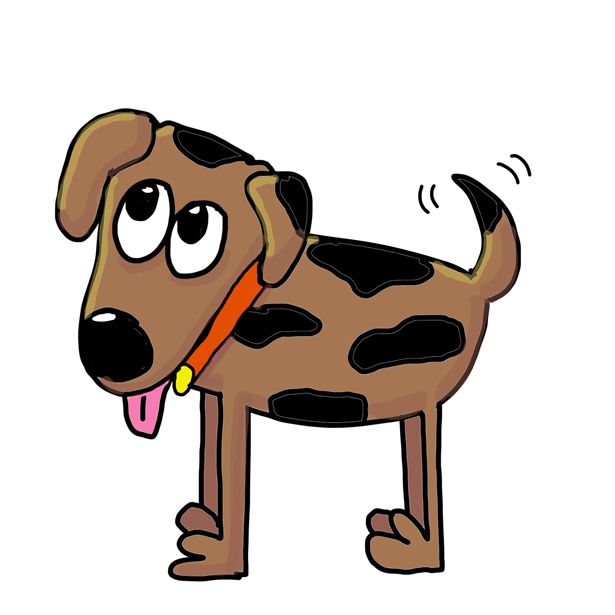 If you want - you can add a pink tongue, a collar or some "wag-marks" to the tail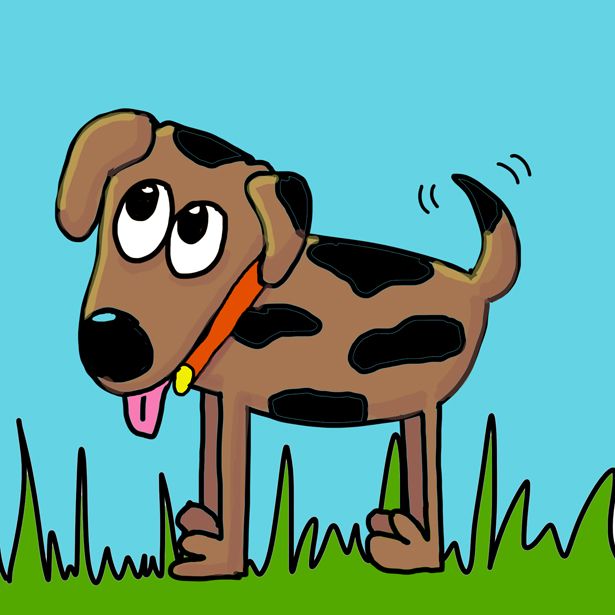 you can add a background
(feel free to use the backgrounds you did when you were 6)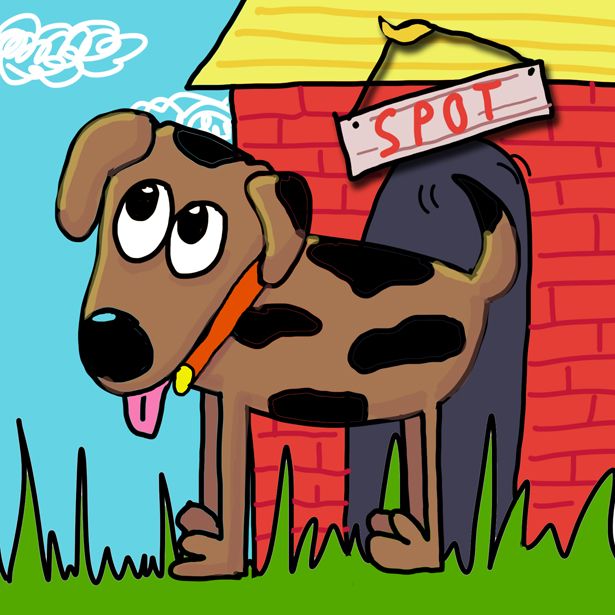 And you can add anything else you want - a kennel, clouds, bones, a cat, whatever.
AND there you have a lovely little pup!

(and if you add a bunch of antlers - you could probably make it a reindeer)
Once you get the hang of the basic shapes you can experiment with different eyes, ear types, tails and body proportions. Long skinny sausage body, short dumpy legs, alert triangle ears, long wagging tail, small nose, big nose - All of which will give your dog very different personalities. You would be surprised how many times I erase/adjust about 3mm of a line in my cartoons and it creates an entirely different expression or feel in the picture.
Hope you had fun with this and maybe if people like this little tutorial -
I will show you how to draw Mickey Mouse! :)