Have had a bit of a jam packed week/end hence the semi-silence on the blog. Thursday was the most gorgeous sunshine, summery day and one of Warr's housemates Shelly, had a spare ticket to Hyde Park for one of the Olympic Concerts featuring
Dizzee Rascal
and
The Wanted
. (Actually it wasn't really a spare ticket - it was her sister's ticket... but Sister-of-Shelly was enjoying the sun too much to leave the courtyard, so I jumped on that. lols). It was an awesome concert - Sunshine, drinks, music, happy people.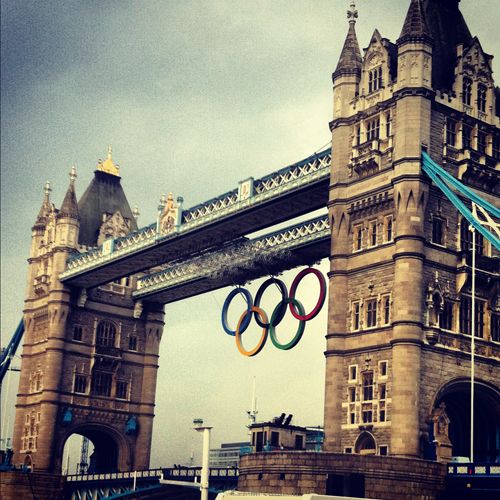 We sat right near the Statue/ fountain "The Girl and The Dolphin" by David Wynne.
"Wow, that girl must have a really clean bum" - warren.
Warr and I managed to hook up some tickets for the opening Ceremony Concert in Hyde Park on the Friday Evening which was incredible. There were so many awesome bands playing -Snow Patrol, Stereophonics, Duran Duran and Paulo Nutini. The weather behaved itself (mostly) and there was just such a good happy vibe from everyone who was there. They screened scenes from the opening ceremony whilst some of the later bands were performing and at the end of the music concert we watched the Ceremony Finale on the massive screens with all the Brits around us cheering like sugar-fueled children at a circus.
Warren was getting us drinks from the beer-tent (since i wasn't allowed in, since I'm so young and
have been carded now three times in London
), so he missed the fly-over - Don't worry I got it on film for him. Thanks Warr.
We had an early start on Saturday morning since we had tickets to watch the Beach Volleyball at the Horse Guard Parade Stadium - the 2:30am bedtime the night before didn't really help the 6:30am wake up start to make it to the stadium on time. But we made it. (Warren and alarm clocks are friends- Yeah, he's one of
those
.
I am NOT one of "those"
). Anywhoo due to Warr's fantastic waking-up abilities we made it to the Stadium on time, with in fact almost an hour to spare - perfect to grab some delicious cheesy-bacon croissants to ease the concert-juice from the night before.
Me plus cheesy-bacon croissant plus compulsory red telephone booth snap.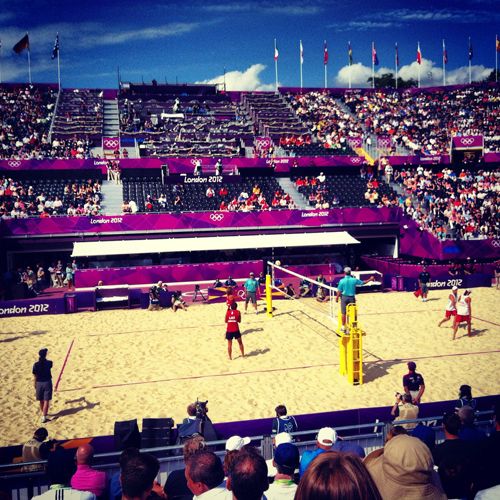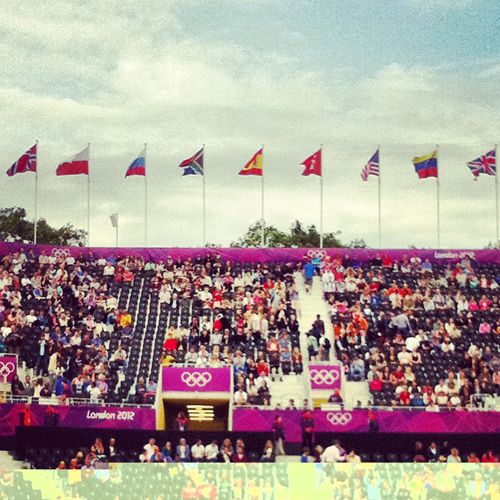 Above: Snap of the South African flag on the Horse Guard Parade Stadium.
The Volleyball was awesome to watch and the commentators did an excellent job making sure that the whole crowd got involved with Mexican Waves, chanting and slow-claps. At every Technical Time Out there were also a troupe of dancers who would come out and shake-their-thangs for the crowds.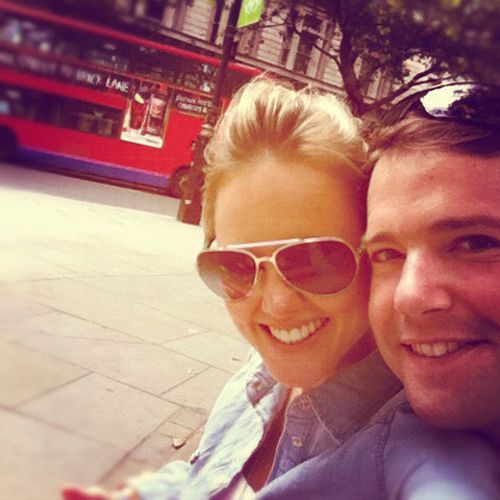 We decided to take advantage of the sunny weather and ditch the crowds by walking across London to Waterloo rather than hitting up the tubes. It was a wise move and we stopped off at a few English pubs to have a pint. Snapped some pretty pics along the way...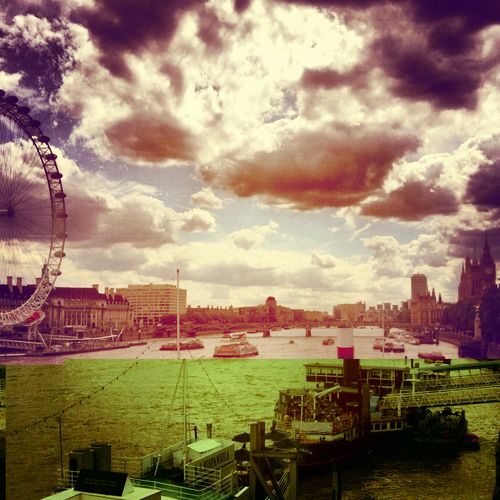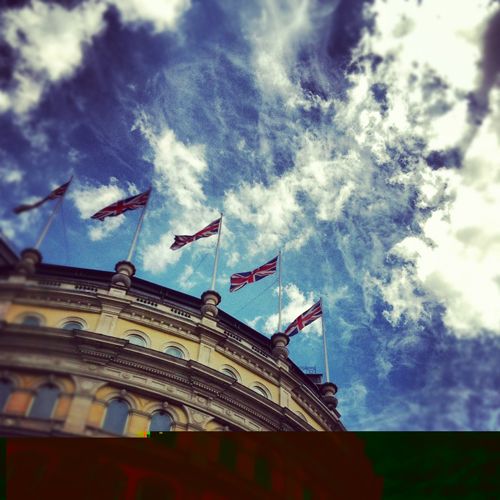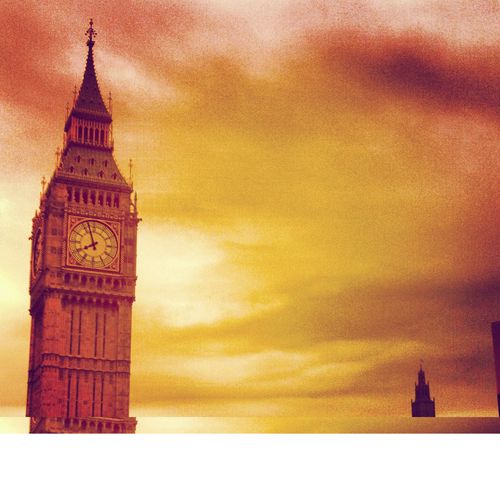 So now that you know everything I did this weekend -
What did you get up to?
Anyone do anything fun for the Opening Ceremony?