I'm sharing a little Father's Day DIY that I did with Warr's little nieces who I have been baby-sitting for the past week or so.
What you will need to make the Father's Day Golfing-Green for dad to practice his putting skills -
Paper Cup
Big Piece of Cardboard
Old Newspaper
Flour
Water
Green Paint and paintbrushes
Skewer stick
Paper and Crayons
To make a paper-mache paste - you can mix one part flour to two parts water. Some recipes add a teaspoon of salt to prevent molding. The consistency should be thick but still quite runny and free from any lumps. We used two tablespoons of flour and then added water slowly. We then made a second batch of mache-glue when the first was finished. Take your newspaper and cut or tear it into long strips - this is quite fun for little kids to do. haha. Dip the long newspaper strips into the flour-paste and rub off any excess paste. Smear the newspaper onto the board until you have made a big slope into the cup.
If you live in London and the weather forecast is rainy-with-a-chance-of-rain, you may need to leave it for a night or two.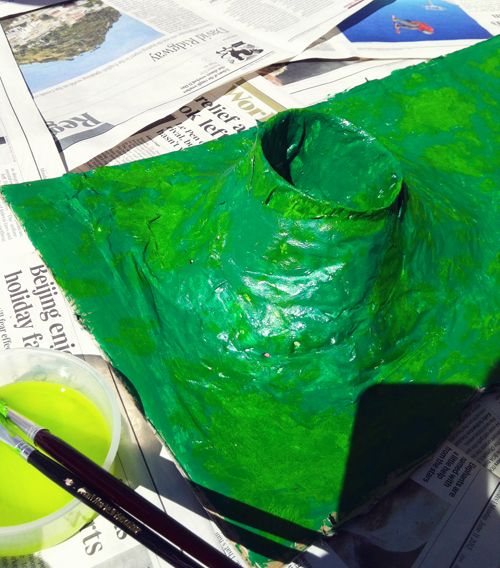 We used two different greens to give it a bit of a grassy feel - but you don't need to.
You can make a triangle flag by cutting out a big diamond shape and folding it over a skewer stick and gluing the flaps together. Make sure you colour/draw on the paper before you stick it to the skewer stick. If your kids are old enough you could have then draw golf-clubs or golf balls or write a Father's Day message.
This was a really fun little project and it was also fun at the end when we practiced our own putting skills haha. If I were to do the project again, I would probably build-up the mache-slope over the entire cardboard piece so that the cup is sunken in - rather than have the cup sitting on top of the cardboard - but test out what you would prefer.
ps. I didn't take any SLR pics of this project - because, you know, 4 year-olds, paint and fancy cameras don't mix well.
Happy Father's Day for Sunday yo!