Last week or so
Natalie Roos
posted a blog post titled
"what's in your bag?"
and tagged some people on twitter to get involved mainly to have a nosy little peek into other girls bags...
I decided to do a triple whammy of bags -
1. the everyday lady bag.
2. the laptop bag.
3. the camera bag.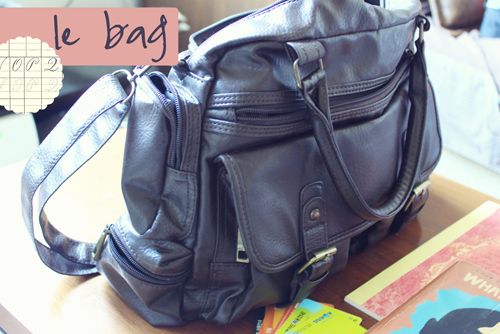 I bought this bag in Ilsan, South Korea - I also bought the two similar bags as gifts for my Mom and Aunt in South Africa. This bag is the perfect size for me and the colour goes with everything. During the purchasing of this bag - Me and two friends were asked to be filmed for some Korean TV show about being a foreigner in Korea. (It's not an unusual occurrence.)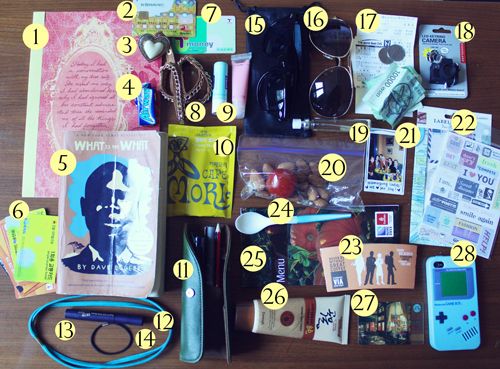 The Contents:
Notebook - sent in a package from my friend Angie from Canada
Korean bank card
Big heart ring
Gum. (essential.)
Disposable travel cards that I keep meaning to refund. But then i forget.
T-money card - used for all buses and subways around Seoul.
Leather and gold chain wrist-wrap bracelet.
Labello lip-ice and Lancome juicy tube. (I always lose lip-ice)
Coffee sachet. (funny story... we actually bought coffee sachets from a 24 hour convenience store in Seoul because we wanted the paper cups that they come with. Just so that we could drink the "fancy" bottle of "Family Mart" red wine whilst sitting on the plastic chairs and tables outside the store. yip.)
Gorgeous leather pen holder from my friend Laura - stocked with multiple pens and pencils.
Turquoise headband.
Eggshell shimmer stick from Skinfood. Works so beautifully as a highlighter and as a bronzy/creamy eyeshadow.
Hairband. (not too good with wearing my hair down. [in the literal sense i mean. Figuratively - i'm ok. see #10] )
Pair of black sunglasses that I bought on the streets of Seoul. (purchase may or may not have had something to do with aforementioned bottle of wine.)
Pair of sunglasses I was previously wearing that day.
Receipts and Korean money
Camera keychain I bought
Mini bottle of perfume
Tomatoes and almonds. For snacking purposes.
Mini Polaroid pic of the girls out for lunch.
Travel stickers and stationery I bought
Starbucks cup holder - which I hoard collect to use when I make "up-cycled" books and things.
Random spoon. (?)
Emirates flight menu. (used as a bookmark)
Cereal hand moisturising cream.
Starbucks card.
Nintendo Game boy. Just kidding, that's my iPhone. i know.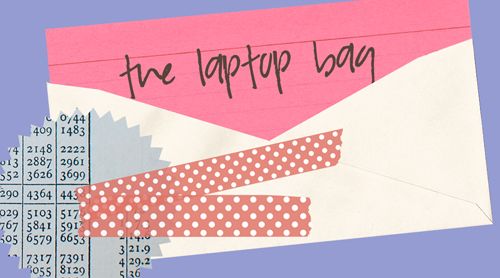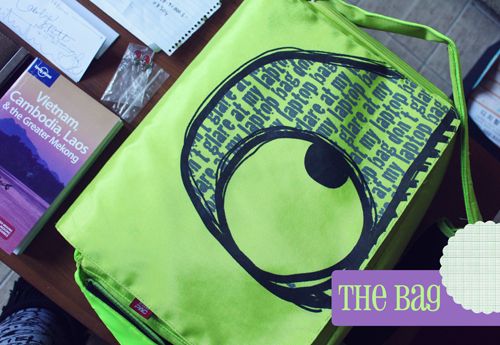 Let me just state the obvious and say that this bag is awesome. It has some kind of giant alien lumo green eye and the words say "DON'T GLARE AT MY LAPTOP BAG." (Definitely made in Korea).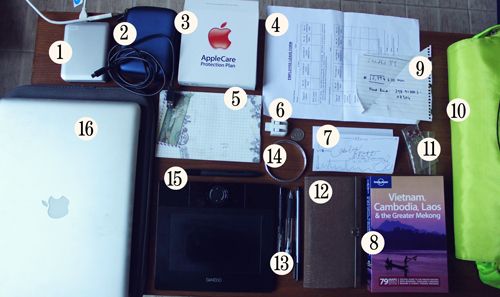 The Contents:
Portable hard-drive
Hard drive cover.
Apple care box
Employee leave form. (I'm planning on being "sick" soon. ahem.)
Pretty writing paper
Adapter plug
Scribbles and layout ideas for a Wedding Stationery Set I am currently working on.
Lonely planet book on Vietnam, Cambodia and Laos - busy planning an epic trip there for 5 weeks in December/January. (WOOPLA!)
The account details and money amounts that I had to transfer to the travel agent and Airlines. (UN-WOOPLA!)
Laptop bag. Did you miss it?
Earrings given to me by a co-teacher.
Purse - so that I can buy snacks when i have to take my laptop with me to the office.
Pens. (always gotta have them pens.)
Bracelets. (I can't draw my cartoons with my bracelets on. It messes with my mojo.)
Wacom drawing tablet and pen that I use to make my cartoons.
My precious.
This bag is amazeballs. But
really
. I got mine for my birthday from my lovely mom and dad.
And now you can get them in South Africa from
Camera Couture
. They stock a range of beautiful ladies (and men's) designer handbags that are actually camera bags with padding and support for expensive camera equipment. And you can adjust the padding inside to fit your needs. They are awesome because instead of packing your big ugly black camera bag and lugging it around with you - you can pack it all into a really pretty "handbag" and not look like the Italian Mafia every time you want to take your camera's out for a ride.
(pic taken with iPhone -because the real camera is in the picture.)
Contents
50mm f/1.8 Canon Lens
Lomography film 400 ISO
Korean wons
Random camera instructions
Instax mini polaroid refills
Lomography bag with Diana F+ adapter pieces
Small sketchbook
Canon 60D Camera
Diana F+ flash
Spool
SD card in case
OH LABELLO! THERE YOU ARE!! TWO OF YOU!!!
Diana F+ adapter back (to convert 120mm film to 35mm film)
Diana F+
Super Slim Wide Angle Film Camera given to me by Dominique
Silica gel -DO NOT EAT.
Matches from Zebrano - a bar/club in London
Camera Case
Instax camera case
indieBerries business cards that i had printed from Moo cards
Instax instant camera
Battery
Action Sampler Camera. (Takes four pictures in one)
Canvas bag with cellophane papers to put over the Diana Flash to give it a colour pop.

Wow and that all fits in that lovely turquoise joy! haha Seriously though - really awesome for anyone who has camera equipment and there are a whole bunch of styles and colours too.
Thanks for reading if you made it this far and for poking around in my bags. haha. (today I have bags under my EYES for staying up to finish this post. lol i crack myself up.)