Arriving in Laos

Something Awesome:
Both of us arriving in Luang Prabang, Laos in one piece.
Something Crap:
After missioning most of the morning and settling on accommodation that we thought was quite nice and booking in... We arrived back in the evening (9pm) and tried to find someone who could help us with the wifi code only to see the Laos "man-in-charge" creep out of a guest hotel room, with a towel wrapped around him, followed by a local girl, also naked wrapped in a towel. The manager then returned in a pair of boxers sporting an inappropriate "tent" and left abruptly to resume his business while we could do nothing but sit in our room with the doors bolted. Ear plugs would have been nice.
DO NOT STAY HERE.
Something We did:
We found a gorgeous restaurant
Dyen Sabai
across the Nam Khan river. We had to cross a rickety bamboo bridge to get there - but it was totally worth it. The bar/restaurant has private bamboo huts, different board games and amazing shakes.
DO VISIT HERE
. (Nam Khan River below)
Something Random:
While we were playing scrabble - we decided to use Blake's phone dictionary to verify the validity of any word. "ok.. well...if the phone says it's a word.. then it's a word..." We later realised that Blake's phone accepts almost any word as valid.
Side Note to self: "Fregon" is not a word.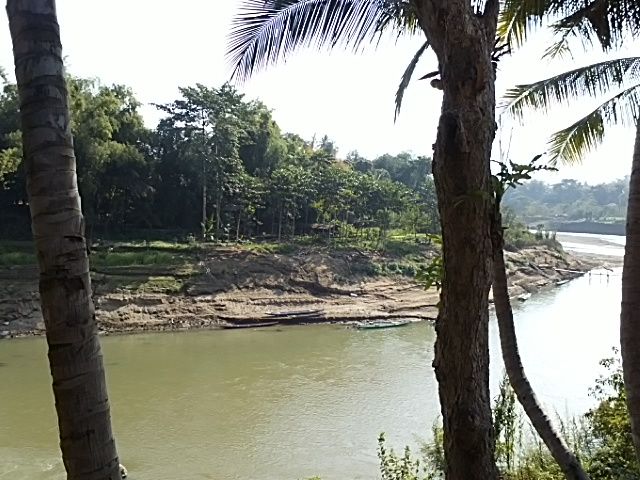 Something we ate: A Loas Fondue with beef, vegetables, noodles cooked over an open flame. The dish also includes two eggs which you scamble in the noodle broth and a spicy dipping sauce. yum.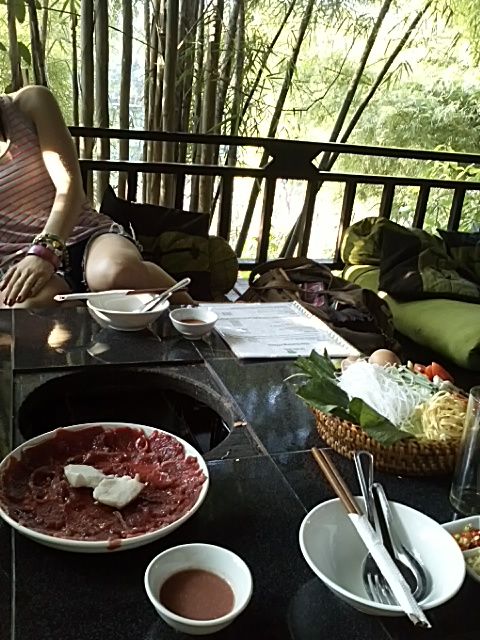 Something said:
Che: Are you sure that's a word? I feel like it's not.
Blake: Well it is coming up in the phone dictionary...
Che: yeah. that's true.
Blake: ok then, Fregon for 200 points.