I started this blog post with no clear direction.
Can you tell already?
(This picture was taken at a bus stop a few weeks ago - waiting outside in the cold. My physio-friend, Lulu told me that if you are desperate to wee, then you need to push on the soft area above your lip and curl your toes and it will help relieve the pressure on your bladder. My hands were too cold to take out my pockets - so the man stepped up to the plate. What a guy.)
Friday is "usually" the day for
FUN FACT FRIDAY
- but to be honest, I'm getting a little bored of it now. In fact, I get bored of things pretty quickly - It's a miracle I've managed to stay married
SO
long (10 months).
So anyway - since I am getting a little bored of FUN FACTS - maybe you are too?! (thoughts?!) Can you believe that I started that series 7 months ago?! That's almost as long as I've been married. Sheesh. Time flies. Maybe I will have to find another series that I'm inspired by again. Maybe FRIDAY FUN! Who knows. Not me. So in lieu of fun facts, I thought I would just tell you some random shizz:

The Husband is away in South Africa at the moment for a wedding - he flew on Wednesday evening. I have predicted various things happening during the time that he is away -
My sleeping patterns will drastically change. I am a total night owl - but force myself to "try" go to bed when The Warr does. Last night, I went to bed at 1am...and nearly got back out of bed to go do more "stuff". Oh, it's going to be a slippery slope til Monday. In fact, between now and Monday will probably only be one sleep.
I will not wash any dishes. OR - more realistically, I will not make anything that requires dishes being washed. Food consumed in this period will likely be: boiled eggs, half a red pepper, spoonfuls of avocado and cereal straight out the box. Actually, that is exactly what I ate yesterday.
I will attempt all sorts of "things". I have in my mind, an idea to MAKE THINGS WITH FEATHERS. I have no idea what these "things" are. But I just know I want to MAKE SOMETHING. and I want FEATHERS to be involved. More likely, I just want an excuse to visit Hobbycraft again.
I have booked a yoga workshop on Saturday at the Bikram centre in Wimbledon. Also, if you didn't see my instagram feed - I've been doing some "home-yoga" headstands an all yo. - and I'm keen to have another session tonight! (I've been following videos off this website)
I'M BREAKING UP THIS LOVELY LIST WITH
A PICTURE OF HUSBAND AND HIS BEARD: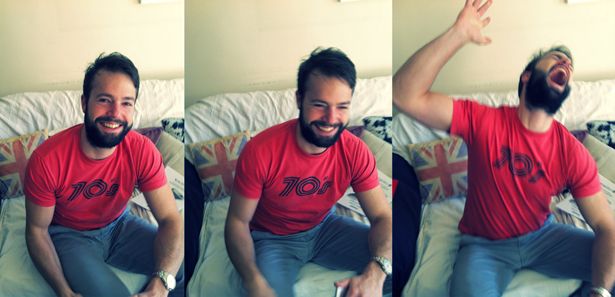 I was trying to take a picture of The Mancakes while he still had his beard,
Me:
Ok, now laugh like I've said the FUNNIEST THING IN THE WHOLE WORLD. PEOPLE MUST KNOW HOW HILARIOUS I AM.
He takes direction well - we should probably be in Hollywood.
I forgot where I was going with this.

Hmm.
Am obviously losing my mind without him here.
I have a lot to do today - tons of emails and guestbook enquiries and website stuff and
Etsy orders
. So I'm going to sign off... but I will leave you with this
NUMBER ONE TIP!!
(VERY NB):
Always, ALWAYS
start your blog posts with a clear direction, or you will end up nowhere in a pile of beard. HA HA HA HA HA.
* * * * * *
Happy Friday!