I've snapping away on my
wide angle film camera
all over London - and had accumulated five rolls of film to develop the other day. Picking up film is like waking up on Christmas minus the mince pies. There are so many awesome pics - so I've decided to share a few with you in different stages so that you aren't
overloaded
with film goodness all at once.
I title this selection:
These pics have not been edited/photoshopped/instagrammed in any way.
They are pure film loveliness.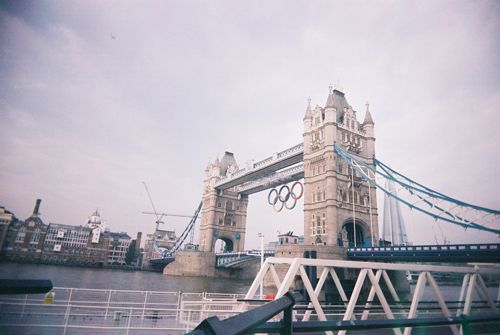 Olympic Rings on Tower Bridge
Flags all over the place, for the Queen's Diamond Jubilee.
Serena Williams on Centre Court, Wimbledon.
Charing Cross Railway Station.
Although, I think it might be obvious if you read the sign.
Red British Buses in Trafalgar Square.
A bridge on Southbank, London Eye in the background.
This is something famous, I don't know what it is.
Beach Volleyball - The 2012 Olympics.
Antique shops and nick-nack stores in Brick Lane.
Cupcakes. You should find them. (Brick Lane)
Charity Golf Day -
I can't wait to show you the pics it took!