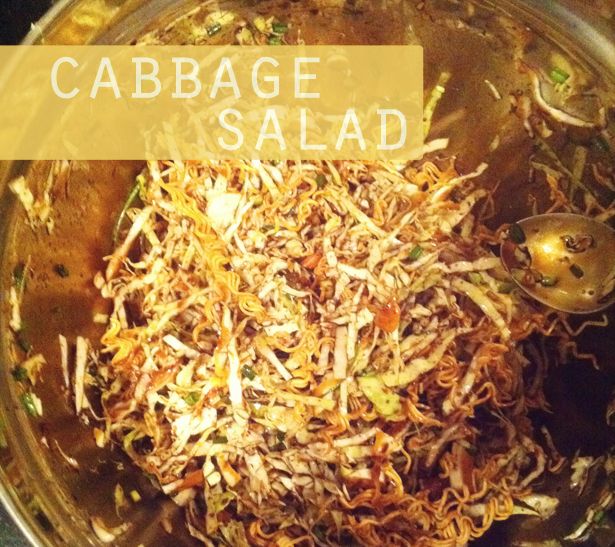 "I'm so glad I spent all that money on sending you to University - you learnt to make that delicious cabbage salad! Oh yes... and you also found a husband" - my dad.
In my final year of university, I lived with 5 other girls. All five of these girls were gourmet chefs. I most definitely am
not a gourmet chef
. We cooked in pairs and rotated partners each night which was great for me, because I was never responsible for feeding the masses on my own. My cooking partner for each week - would ultimately put me in charge of chopping things - which is the job always given to the lesser (un)-chef. I got this job
every
time. There was that
one time
that my cooking partner let me partake in the
actual cooking
for the night and that was the very same occasion that we knocked over an entire bottle of olive oil (
all
over the counter and floor), set fire to a tray of roasting nuts - smoked out the whole kitchen and lounge, accidentally poured an entire bottle of salt into the frying pan and served meat to the vegetarian. That's a true story, you can
ask Lauren.
Needless to say, I was back on permanent chopping duty very soon after that.
In my time with the gourmet chefs, I did learn to make the most AMAZING cabbage salad. (Mainly because all it requires is chopping). I made it the other night at home and one of my friends requested the recipe - so i thought I would share it here, because you should probably make it tonight. Because it's delicious. And, trust me - even (un)-chefs can master it.
Ingredients
Half a Cabbage
A bunch of Spring Onions
To Roast under the Grill:
2 packs of 2 Minute Noodles (roughly broken up)
2 handfuls of Sunflower Seeds
2 handfuls of Flaked Almonds
Mix Together to make the Sauce
1 packet (or 2 if you prefer) of 2 Minute Noodle BBQ or BEEF flavouring
A quarter cup olive oil
A quarter cup sugar
1 tablespoon vinegar
2 tablespoons soya sauce
Thinly slice up the cabbage and the spring onions. (We usually cut up a bit more cabbage).
Roast all the "roasting items" under the grill until they go golden and crunchy. (Watch it carefully - it catches easily). Toss it around a bit to make sure it grills evenly.
Pour the roasted ingredients (almonds/sunflower seeds/noodles) onto the cabbage and spring onion.
Mix all the sauce ingredients together and pour it over the cabbage/onion/roasted noodle mix.
Mix well and Serve Immediately!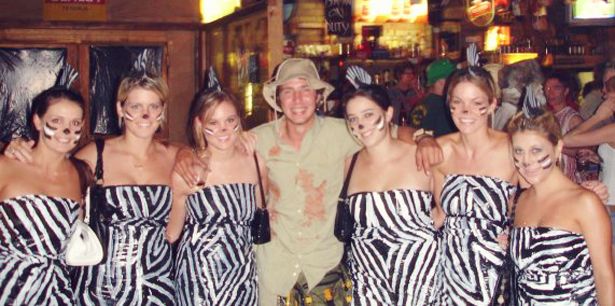 And here is a pic of me and my digs mates dressed up as Zebras in black rubbish bags for a friend's 21st. I made the cool zebra head pieces for us and painted most of the bags, because - I had obviously been banned from the kitchen that night and needed to feel useful.
x smooches digsmates - can't wait to see you all at the wedding! x