the next leg1. Something awesome
Getting 19 dollars off in a bargaining scheme.
2. Something crap
Having credit card hassles online because Korea has such epic protection safety-nets for their cards.
3. Something we ate
hamburger. It was just that kind of day.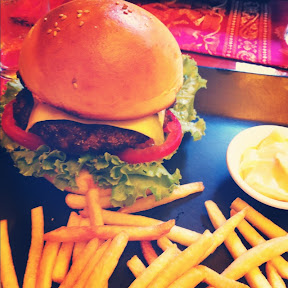 4. Something random
Really going to miss the wifi that's pretty much all over the place in Cambodia
5. Something we did
sat planning the next leg of our trip to Vietnam. Spent almost five hours in the same restaurant looking at all the different options. Also went to the night market in the evening and saw some traditional Aspara dancing and used the last of our rationed dollars and riels to buy more unnecessary holiday trinkets. (currently my backpack won't close. Lol)
Pineapple juice, iced coffee and lonely planet ;)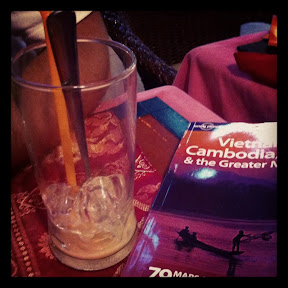 6. Something said
me waiting in a convenience store to buy water. Approached by random Australian.
Aussie: hey
Me: hey
(long awkward pause)
Me: So. What happened to your head?
Aussie: I don't know hey. They found something growing in it and they cut it out.
Me: oh. Ok. cool? (awkward pause)
Aussie: yeah but. I'm also covered in dirt. So it could be a lot of things.
Me: yeah.
(long pause)
Me: so are you waiting in the line.
Aussie: No. It's ok. I'm waiting for juice. ORANGE juice. A lot of it.
Me: ok.
(long pause)
Me: ok... So I can....
Aussie: yeah yeah no problem.
Me: ok well goodbye then.
Aussie: yeah. Right. Bye then.
*end*