Biking Angkor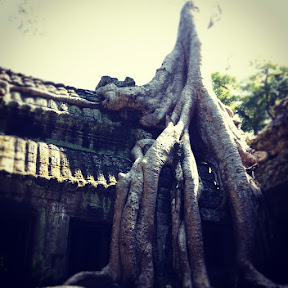 1. Something Awesome
Biking out from Siem Reap city to the temples of Angkor and spending the whole day out on a bike, in the sunshine hunting ancient temples.
2. Something crappy
Bum. Bike. Seat. You understand.
3. Something we ate
We made a little picnic nosh-up with crackers and cheese and nuts and some left over spring rolls from the cooking class. We got some iced coffee which comes in a plastic bag-SO delicious and had a picnic overlooking Srah Srang lake. (but seriously the coffee here is amazeballs.)
4. Something Random
Wild tuk-tuk drivers, crazy mororbikes, speeding buses and bikes with screechy-brakes that are 3000 years ancient make rather a nerve-wrecking experience. Ahem... Stationery spinning bikes are "slightly" different to the real thing.
5. Something we did
Saw Ta Prohm, one of the most picturesque temples at Angkor because it has been left largely in the original state in which it was found. It has huge trees which are growing in and around the temple. We also saw Banteay Kdei and Ta Keo.
6. Something said
"This whole bike thing is exactly like the Tour de France. Except in Cambodia. Minus Lance. And also... we might die."