A few weeks ago I blogged about how much I love the
innocent food range
. And because it's always nice to hear compliments about the things you do, the products you make or the blog posts you write - I decided to email the lovely people at innocent and tell them how much I dig their vibe.
I received an awesome reply from Rio and took a screen shot of the email exchange -
Below it is a transcription.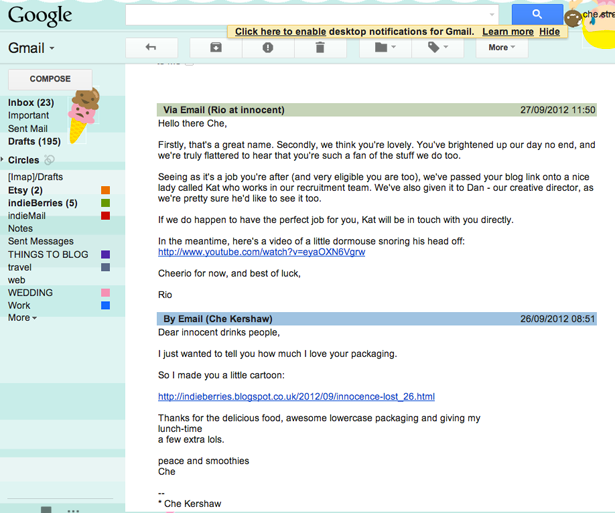 Hello there Che,





Firstly, that's a great name. Secondly, we think you're lovely. You've brightened up our day no end, and we're truly flattered to hear that you're such a fan of the stuff we do too.





Seeing as it's a job you're after (and very eligible you are too), we've passed your blog link onto a nice lady called Kat who works in our recruitment team. We've also given it to Dan - our creative director, as we're pretty sure he'd like to see it too.





If we do happen to have the perfect job for you, Kat will be in touch with you directly.





In the meantime, here's a video of a little dormouse snoring his head off:

http://www.youtube.com/watch?v=eyaOXN6Vgrw



Cheerio for now, and best of luck,





Rio
Aaaah. innocent. You win my heart again.