Since getting
engaged,
(VIVA!) I have realised that there is a fair bit to be learned in the realm of "wedding planning" - there is organising, planning, preparing, purchasing, ordering, creativity, expense and dilemma - and that's talking about the fiance before he's even
asked
.
As a handy wedding-guide, for those who decide to undertake this
massive
wonderful process, I've decided to start compiling a compendium of Wedding tips and How To's.
I have previously blogged -
How to ask a Maid of Honour
How to deal with the difficulties of intercontinental wedding planning
How to plan your wedding budget
How to make a moodboard
And you already know...
How to propose like a BOSS -
Part One
,
Part Two
and
Part Three
Today's edition will be focused on the dilemma of Facebook profile pictures. Facebook profile pictures are the cats pyjamas- all cosy and fuzzy and what-not. If someone on your Facebook feed suddenly changes their profile picture to one that includes you in it, let's be honest, you suddenly get a warm fuzzy feeling inside. Like they have chosen to recognise you and your awesomeness as worthy of their Facebook Face. It's like a little honorary gesture of "hey you're so cool, i want your face next to my face next to all the other faces" The fewer the number of people in the profile picture - the greater the warm-fuzzies. It's basic math.
Of course, when you get engaged all you want to do is whack up a picture of you and your dearest so that you can give them the warm-fuzzies in return for the warm-fuzzies they gave you when they proposed. (These fuzzies are getting complicated.
geez.
)
Now let's say for instance, you had the most awesome weekend with the most killer crowd of people in the world. You would like to honour these people for their awesomeness by elating them to your Profile Pic. BUT! Alas. your love did not join you on this epic weekend trip to the beach with all the mates because he was slogging away in a very stressful office in miserable raining-cold London. (
yeah, i see how this looks
).
So now you sit with the dilemma - awesome pic of all the most awesome mates in the world sans newly fianced-beau:
RIGHT into the photo, right next to you, like your average household creep.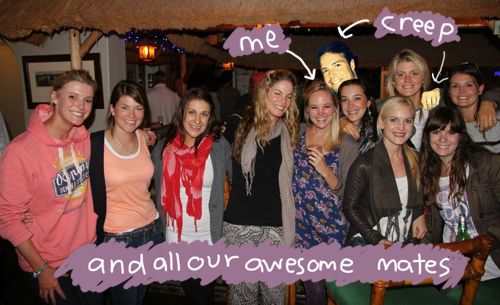 DONE.
(ps warren isn't actually that yellow.
it just totally made the photo better.)